As many of you know, several of our projects are available as products that you can purchase and build at home. For those of you that are looking for that unique gift, thank you or special something for that special someone, Studio Bella is here to help. We'll build that special project just for you as a seasonal or one-time product offering.
Personalized Gingerbread Houses
Just in time for the holidays! Personalized gingerbread houses for your family and friends, straight from the North Pole!
Gingerbread house comes fully designed (front and back) on a Christmas platter. Houses are wrapped in cellophane with a red tie and gift tag. Details and delivery info below.
Once you click to order, you will answer custom questions to help us create your house!
Customized Gingerbread House – $40
ORDER YOUR 2020 GINGERBREAD HOUSES
Personalization Details:
One name on a sign (Family name, Business name, etc.)
Up to 6 people (shorter boys and girls available) or Penguins (in place of people).
Up to 2 pets-dogs and cats available. Additional pets are $2 per pet
 Each house will be unique
Additional customization may be included at an additional cost.
Details:
Winter platter wrapped in cellophane with a bow (each house will sit on a plastic platter and will be wrapped)
Once your order is placed, there is a 5-day turnaround.
We will deliver for an additional $10 ( within the 635 loop only).
We will accept orders up to Monday, December 14.
We will make our last delivery on Friday December 23.
Have some personalization/customization questions or large orders? Feel free to give the Elf herself (Tammy) a call! 469 878 8056.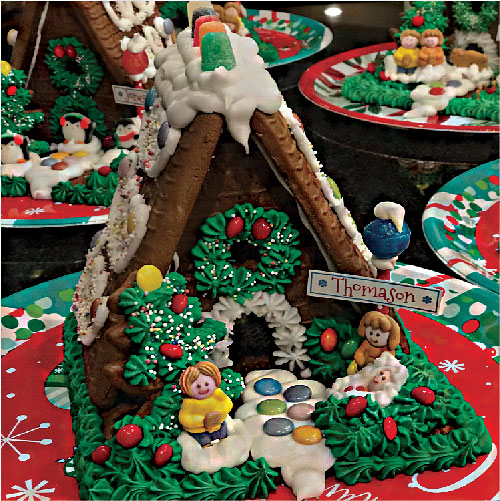 FAQ:
Do you have adults or just children? We only have one girl character and one boy character. If you specify, we are happy to place children one one side and adults on the other to help distinguish, but for instance, the girl-child and the adult female will look exactly the same.
Do you have babies? If you specify, we can make any boy or girl shorter than the others.
What if I don't want to add people to my house? Totally fine! Just specify that you do not want any girls or boys added or choose up to 6 Penguins if you'd like to have them instead.
Do you give a discount for multiple houses? We do not give a discount for multiple houses at this time.