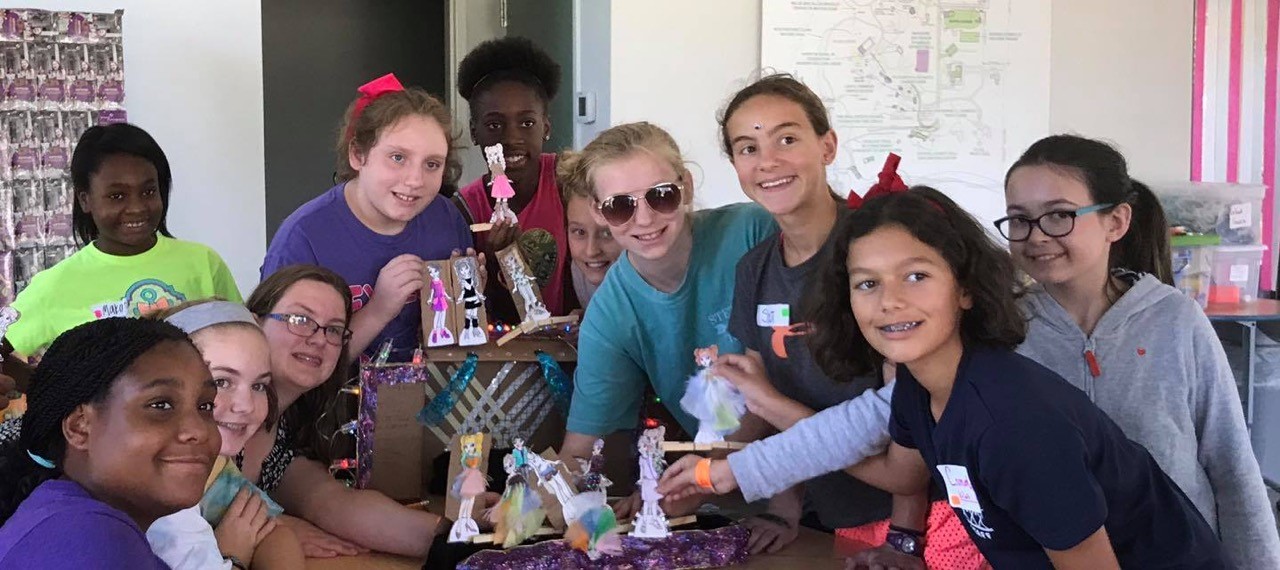 GIRL SCOUT WORKSHOPS
Journeys (in a Day), Badges and Progressive Badges
Studio Bella for Kids is proud to partner and serve the Girl Scouts of Northeast Texas at Camp Whispering Cedars, at our own studio and at requested locations. Daisies through Ambassadors have come near and far for workshops girls enjoy.

JOURNEYS IN A DAY
Studio Bella loves to problem solve and have creatively created Journeys in a Day of all Ranks. We pack all the requirements and Awards in a 3-4 hour workshop. From Daisies to Ambassadors we have Journeys for all! Every Journey series includes a sustainable Take Action project and adventures, lessons and learnings to empower girls with leadership, love of learning and success! To book a journey for your troop, download the form below, fill it out, take a picture of it and send it in! The cost is $40 per girls.

1. Series 1: It's Your World—Change It!

Girls learn to make a difference in the world
Daisies – Welcome to the Daisy Flower Garden
Brownies – Brownie Quest
Juniors – Agent of Change
Cadets – aMAZE! The Twists and Turns of Getting Along
Seniors – GIRLtopia
Ambassadors – Voice Your World – Not available

Images of books courtesy of the Girl Scout Website
2. Series 2: It's Your Planet—Love It!
Environmental topics are at the top of the list with Take Action Projects
Daisies – Between Earth and Sky
Brownies – Wow the Wonders of Water
Juniors – Get Moving
Cadets – Breathe – A leadership Journey
Seniors – Sow What
Ambassadors – Justice – Not available

Images of books courtesy of the Girl Scout Website
3. It's Your Story—Tell It!
The power of storytelling fosters growth of relationships, sense of self, confidence and communities in addition to a Take Action project.
Daisies – 3 Cheers for Animals
Brownies – A World of Girls
Junior – Amuse
Cadettes – Media
Seniors – Mission Sisterhood
Ambassadors – Bliss- Live it!

Images of books courtesy of the Girl Scout Website
4. Engineering: Think Like an Engineer
Hands-on design challenges and completing a Take Action project make this Journey and adventure.
5. Computer Science: Think Like a Programmer
Girls will problem solve by being challenged with computational-thinking activities and followed by a Take Action project.
6. Outdoor STEM: Think Like a Citizen Scientist
Observing and collecting date, completing a citizen science project and completing a Take Action project make this a fun journey.

Badges
Check out our offerings on the New Award Log
Studio Bella helps girls achieve badges that are highlighted with a red outline.



We also provide many other workshops such as architecture, interior design, cake decorating, Day of the Dead Sugar Skulls, Panoramic Sugar Eggs, Gingerbread houses, Sewing and invent your own and more!
Click to Reserve Your Girl Scout Workshop
Click to Reserve Your Robotics Workshop
Click to Reserve Your Journey Workshop
Questions?
Call 469 878 8056.
For pictures & fun go to facebook.com/studiobellaforkids